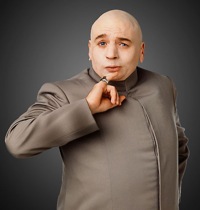 If you've noticed that I haven't been around much lately, I guess it's because I'm a little burnt out.
It's not the Obama win that did it. To tell you the truth I'm not all that worried about him anymore. I actually think the guy has been elected at the worst possible time. If he does even one or two of the things he said he's going to do, then the economy is going right in the crapper. The people who work for him will all know that and will certainly tell him so. No one takes Krugman seriously anymore, not when they have their jobs and reputations on the line.
So he's been elected president at a time when if he does even a little of what he said he would, his negative reputation in history will be sealed. In the near term we will either have a Democrat who will break his campaign promises to do the right thing, or a Democrat who will be so savaged by reality that he'll assure the utter devastation of his socialist leaning party in the next few elections. As far as elections go, it's hard to get better than that when you lose.
And if you assume for a minute that his 'hope and change' blather was all just for the rubes, and that underneath it he's smart enough to see a bit of reality through the rhetorical fog, then the truth is… I kind of feel bad for the guy. His every avenue to do the things he said he wants to do are firmly blocked off by their effect on unemployment.
Green energy only happens because of high energy prices (he even said so) and that leads to unemployment. Higher taxes for the rich lead to smaller amounts of investment capital and higher interest rates which in turn lead to… more unemployment. Increases in domestic spending? While it's long been a piggy bank to buy votes, the reality is that if the government is spending it, then it's money poorly spent and the net effect is… you guessed it… more unemployment.
He can still pull us out of Iraq and slash the military budget. Apart from the soldiers it eliminates that won't lead to any direct unemployment. Of course it will increase the political risk in the Middle East which will in turn increase energy prices which will lead to more 'you know what' (yes… unemployment). And with the two nuclear powers of India and Pakistan about to declare war on one another, I don't think his advisers will be telling him to pull our troops back to where their presence can't be used to 'influence' the situation. But to be fair, I'm not a foreign policy expert so I'll leave that to better minds.
Anyway, no, I'm not all that concerned about Obama winning the election and I wish him all the luck in the world. By my reckoning, he's definitely going to need it.
The reason I'm feeling burnt out is a combination of a few small things rather than one big one. For starters, my work has gotten much more demanding on my time of late. That's an easy think to say in one sentence, but it's really a hundred smaller things that are on my mind. And I no longer have my comparatively relaxing 1 hour train ride to write… instead I'm driving now. It's much harder to write and drive at once.
Then there are the death threats I've been getting on other forums. Those who know me know how generally unperturbed I am by threats. But the whole idea here was to try and influence people's thinking and decision making. If they reject what I say out of hand simply because of what I do for a living, then I think it's a safe assumption that they will also be rejecting my reasons for telling them that they're wrong to blame me in the first place. So it isn't the death threats themselves that have left me feeling worn down, but what they say about our broader society. Right now the Democrats in Congress and their media lapdogs have America whipped into an anti-capitalist frenzy. And a big part of anti-capitalism is demonizing the capitalists.
Hedge funds, and hedge fund managers, are everything the socialist left likes to demonize. They are a ready made villain for the envy driven fantasies of those who subscribe to the labor theory of value. They are private, unregulated, and (generally) make vast sums of money. So in the simply minds of the media and the Democrat faithful, why shouldn't they hate them? If the hedge fund's rice bowls are full that means that someone else's bowl is empty right? And since hedge funds cater only to 'the rich', that someone else must be a poor person.
Well that's not really how it works. It's true that there is a federal regulation setting a limit on who can invest in a hedge fund, but hedge funds are fairly high risk investments so that's a rule put in place to protect the poor not to victimize them. Besides, one of the biggest investors in hedge funds is 'pension funds' which cater to people of all classes. So while they don't have any direct investment, many 'working class Americans' have an interest in hedge funds as well.
But that doesn't matter at all to the media. To them, that sounds like the kind of detail which doesn't play well for the rubes. And if facts won't increase ratings, then by the rules of modern journalism, I guess they stop being facts. Another thoroughly ignored fact is that hedge funds didn't cause this mess, they didn't worsen this mess and they didn't ask for taxpayer money to help bail them out when they too got caught up in this mess. They worked the way all companies in the private sector are supposed to work. The bad ones went out of business, the good ones did better, and they all managed it for themselves without the involvement of Washington.
But all of that is irrelevant. All that matters is what a great villain the hedge funds make.
There is a great joke in a
recent Tom Sowell piece
that tells the story really well:


There is an old Russian fable, with different versions in other countries, about two poor peasants, Ivan and Boris. The only difference between them was that Boris had a goat and Ivan didn't. One day, Ivan came upon a strange-looking lamp and, when he rubbed it, a genie appeared. She told him that she could grant him just one wish, but it could be anything in the world.

Ivan said, "I want Boris's goat to die."
That more than anything else sums up why I'm feeling burnt. There are so many people out there wishing for my goat to die, that I figure I'll just let things die down a bit before trying to influence their thinking again. In the meantime I'll worry about my job and my family, and my own preparations for the future. This blogging slowdown isn't a permanent state, it's just temporary. And I'm sure I'll be back to complaining again in no time. When I feel like my ideas aren't being passed off with a 'Well you're a hedgie so of course you'd say that' dimwitted flourish.
(And I'll say this again… the minute someone uses the word 'hedgie' you can go ahead and discount everything they say because it means that they don't know the first thing about the industry.)
In the meantime, a few of the sharks have broken their laser beams, and I need to spend more time helping my wife sweep out the volcano. That magma gets everywhere when you aren't paying close attention to it. Life is tough when you're a super-villain, but sometimes you have to just make the best of it.