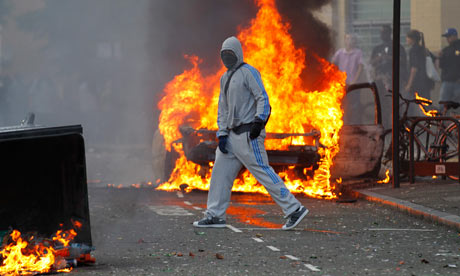 My stepfather, a devoted lefty from the Frank Lautenberg school, was serving on the British coal board when Margaret Thatcher made her first real push for economic liberty in Britain. The coal board at the time was a rubber stamp. It would approve whatever the powerful, openly Marxist coal miners union would ask them to. Thatcher shut it down along with the union. But he remains very proud that at the end, it was he who was holding the rubber stamp. A little sliver of family history.
He and I disagree almost completely when it comes to politics. (My brother is actually better at coping with him because he holds his temper better than I.) But for all my talk about economic liberty, and all the Sowell and Friedman quotes I throw at him, he is really only horrified by one of my political views; my view on public unrest and mob violence. I totally blew his mind one day when he was explaining to me how the brave Palestinians were simply standing up to the evil Israelis, and in a moment of pique I responded:
"Nothing disburses a violent mob like live ammunition."
He was utterly horrified but I meant it. I'm all for free speech, but looting a department store doesn't strike me as something that should have constitutional protection. When someone throws the rule book of civil society out the window (or through it as the case may be) I think everyone else involved in the disturbance should be allowed to do the same. It will either be the marquis of Queensbury/parliamentary procedure or it won't. So I think the minute a mob becomes violent, it's perfectly appropriate for the forces of law and order to fire on the crowd.
If they can manage to maintain order with tear gas and plastic bullets I have no objection. But as soon as the mob starts lighting cars on fire, protecting their physical well being should become a secondary concern. Maybe if I hadn't been raised in the 60's and seen the way the counterculture idealizes those who commit the most crime and violence in the name of politics, I'd feel differently. But there it is.
The thing is, it will eventually come to that anyway. The gap between a riot and revolution is smaller than most people think. When the rioters set fire to Bloomingdales it's looting, when they set fire to the Supreme Court building its open revolt. And don't you believe for a minute that Obama won't send the troops in to suppress the rage, if it's him and his people their raging against.
But in Britain, that may not actually be possible. By any account I can see, it looks to me like the British government has ceased to rule. They have been going in the direction of liberal least resistance for so long, that they now lack the facility to control the populace even if they want to. What's worse, after a generation raised entirely in the entitlement society, they have all but completely lost the internal self direction to live any other way.
To my eyes it looks like they have all become clients of the state; they are no longer free men and women. They are a generation of slaves – and the master has just cut their ration. They don't understand why the 'free stuff' can't keep flowing, and they're responding violently.
They think the government can simply 'tax the rich' more. This error is principally due to an education system that's been hollowed out by the same liberal ideals that have ruined the rest of British society. Even the basic math involved is too much for them now. All they know at this point is that someone has more than them, and they feel it's the government's job to even things out in their behalf. It would never occur to them that it might be their responsibility to improve their own lives.
Like I said, they're no longer free men.
I don't have any grand prescriptions for Britain. I have a hard enough time keeping the problems of my own country straight, so I won't presume to tell them how to fix theirs. Jonah Goldberg has half jokingly suggested building enough prisons to lock up that entire generation. Sounds OK to me. But I think it's clear that thanks to our own hard left, we are on a path that's all too similar to theirs, so we're going to need some more prisons too.
Charles Murray has done some very interesting work documenting the decline of American culture. In the interest of removing the word 'racist' from liberal criticism of his work, he specifically addressed the trends among whites in America, but
as he says in this video, the trends hold true for other races as well.
His work clearly points to us building a new "government dependent underclass" like the one that's been rioting in Britain. I highly recommend you follow the link and listen to what he says.
There is little doubt in my mind that the violence they're seeing in Britain will be part of our future too unless we change our ways. By adopting the liberal ideal of allowing the state to replace the family and politics to replace religion, we're left with a fairly large group of sub-citizens who can't figure out that their life is their own problem. All they know is that the state provides... and when it stops, they will be rising up violently too.
For us, a better solution would probably be to pull the plug now before it becomes too deeply ingrained in the culture, and we end up having to cope with it in the same way that the British have. If we do, we might only need 1 new prison where the British need three.