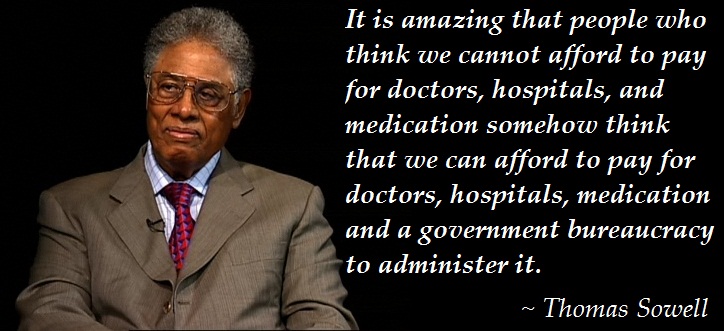 Since he's extremely critical of President Obama's policies, by the logic of the the mainstream media and the political left, Dr. Thomas Sowell must be a racist. Here is an example of this obvious race driven antipathy:
The really big lie — and one that no amount of hard evidence or logic seems to make a dent in — is that those who oppose raising taxes on higher incomes simply want people with higher incomes to have more money, in hopes that some of their prosperity will "trickle down" to the rest of the people.

Some years ago, a challenge was issued in this column to name any economist, outside of an insane asylum, who had ever said any such thing. Not one example has yet been received, whether from economists or anyone else. Someone is always claiming that somebody else said it, but no one has ever been able to name and quote that somebody else.

OK, he doesn't specifically mention race, but as we have been carefully instructed by the media, that is no longer a requirement for blatant racism. Any argument at all can be (and by their estimation certainly is) a racist argument, so long as the person you are arguing with is black. Unless of course the person you're arguing with is a black conservative like Thomas Sowell - then any "fair minded" person would see that has nothing to do with race.
His syndicated column today is particularly worthwhile reading - even if you haven't yet admitted your blatant racism. Linked to the quote above.