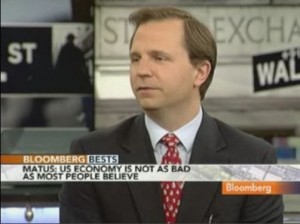 Drew Matus, chief economist from UBS, is sitting in Becky Quick's chair this AM. He just talked up the UBS 'popular vote' model where they try to forecast the presidential election popular vote based on the two factors of unemployment and the 10 year yield. According to their numbers, Romney will win the popular vote 51 to 48.
I know Drew very well. We've been friends for years. I like him a great deal and greatly respect his intelligence. I think if I had to offer a criticism I'd say he's usually a little too conservative, but it's an occupational hazard.
With all that said, I'd put more stock in his opinions, than most people's 'facts'.