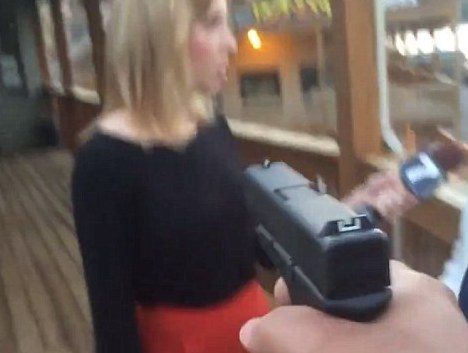 Those who may draw rational conclusions from the photo above should remember their time in the brainwashing academy where we were all very carefully taught that diversity is our strength. What they meant was that the ideas in this murderer's manifesto are just fine, while ideas like mine (exposed here and elsewhere) are heretical and I should be shunned from civil society for mine while he should be forgiven for his.
It would be wrong to blame this shooting on Obama. Obama's 'empty suit' election as president was a milder symptom of the same illness not the cause of the disease. And let's not forget that the man holding this gun was bat-sh!t crazy. That issue more than the fact that he was black, and gay was the thing that led him down this tragic road. Other black people and other gay people go through their whole lives without shooting people. I don't see any cause and effect there. Had this particular crazy person not embraced this particular bit of lunacy, it would have no doubt been something else.
But we should not ignore the similarity between this man's views and the excuses our broader culture provided him. The only solvable problem here is with us, not him. In some respects, Flanagan's world view is a 'fundamental transformation' of America. It's an America where losing means someone cheated you, winning is more or less an admission of guilt, and victimhood is considered the only unassailable virtuous position that anyone can hold. It's an America where the only people who are accountable for their own lives are the people we prosecute for their success. Everyone else can blame others.
Crazy is as crazy does. But we should at least be trying to avoid the same flavor of crazy in our broader culture. Every time I hear from a feminist social justice warrior, or a black grievance monger, or someone tells me to ignore genetics and call Bruce Jenner a woman, in my mind I'm going to see the photo above. This is a natural extension of the world view they all promote in common. This is what is considered right and wrong in Post-American America
It's too late for anyone involved in the shooting from the photo above. The only meaningful question that remains is, is it already too late for the rest of us?